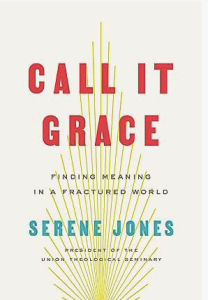 Living on The Edge
The Edge study group reconvenes on Friday September 1.  We are gathering both in person (CRR Conference Room) and on zoom.  The meeting begins at 10:15 and concludes at 11:30. We are using the book Call It Grace: Finding Meaning in a Fractured World, by the Rev. Dr. Serena Jones.  Dr. Jones is the President of Union Theological Seminary in NYC.  For our September 1 gathering, read the introduction section of the book.
The beauty and power of this book is that Serena Jones, an accomplished theologian, relates the deep currents of our faith through the telling of her life's journey from the perspective of a fourth-generation granddaughter of sod busting Oklahoman's. And as she writes about her ordinary and complicated family life, church life and her family's role in small-town community leadership, she invites the reader to recall our stories at the intersection of life and faith.
"Theology is a place and a story.  Theology is the place and the story you think of when you ask yourself about the meaning of your life, of the world, and the possibility of God… For me that place sits, windswept but defiant, on a plain in Oklahoma, a spot of red, dry earth in the middle of a farm on the outskirts of the small town of Billings.." (Introduction)
You can purchase this book at any bookstore, or on Kindle, Audible or Amazon.  Here's an opportunity to join in conversation with other CRR members and friends discussing Serena Jones' stories and hunches about life and faith.  This group is co-convened by Joh McDougal and David Stabenfeldt.
Zoom Link: https://us02web.zoom.us/j/82076061997?pwd=endpck9yMkxuK0hLeEJvZFcwdG9hQT09
Meeting ID: 820 7606 1997
Passcode: 726515
EDGE grew out of a Bible study group that formed in the Village of Oak Creek some 20 years ago. The name EDGE was created when the Bible study group decided to change direction and started to read religious related books and discuss them rather than focus strictly on Bible reading. EDGE is an acronym for Ecumenical, Diverse, Gutsy, and Educational. When the group was formed, we had attendees from at least four different churches and that is where the E and D for the first half of EDGE originated. Post-COVID, we decided to meet via Zoom, and a Zoom link is also set up at the church for those who don't have Internet access or just would prefer to be part of this group at the church. Our book selection process is quite relaxed. Individuals are encouraged to suggest books that they have read or know about, members have a couple of weeks to look up those books, and we come together and decide what the next several books will be. The group decides each meeting how much of the book they would like to read for the next session. We take Fridays off that are during holiday weeks.