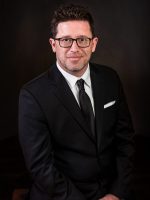 Ryan W. Holder currently serves as the director of music at The Church of the Red Rocks in Sedona, Arizona where he conducts the Chancel Choir and Handbell Choir. Dr. Holder is also the founding artistic director of the Sedona Academy of Chamber Singers, choir-in-residence at The Church of the Red Rocks.
Dr. Holder is currently the Associate Director of Choral Studies at Northern Arizona University (Flagstaff, AZ), where he directs the Vox Astra (Women's Chorale), Northern Voices and High Altitude vocal jazz ensembles, teaches undergraduate and graduate conducting and choral methods, supervises choral student teachers, serves as the adviser for the NAU student chapter of the American Choral Directors Association and the three contemporary a cappella groups. In addition, he is the coordinator of the annual Jazz Madrigal festival, which brings in over 120 high schools and 165 choirs every year.
Dr. Holder has given lectures and presentations at local, state, and regional ACDA and NAfME conventions. His ensembles have been invited to perform throughout the Southwest, including performances at state and regional ACDA conferences. Ryan served as the Arizona State ACDA President as well as the ACDA National Committee on Educational Technology.
Dr. Holder received his DMA degree from the University of Miami in addition to bachelors and masters degrees from Southern Oregon University and University of Northern Colorado, respectively.