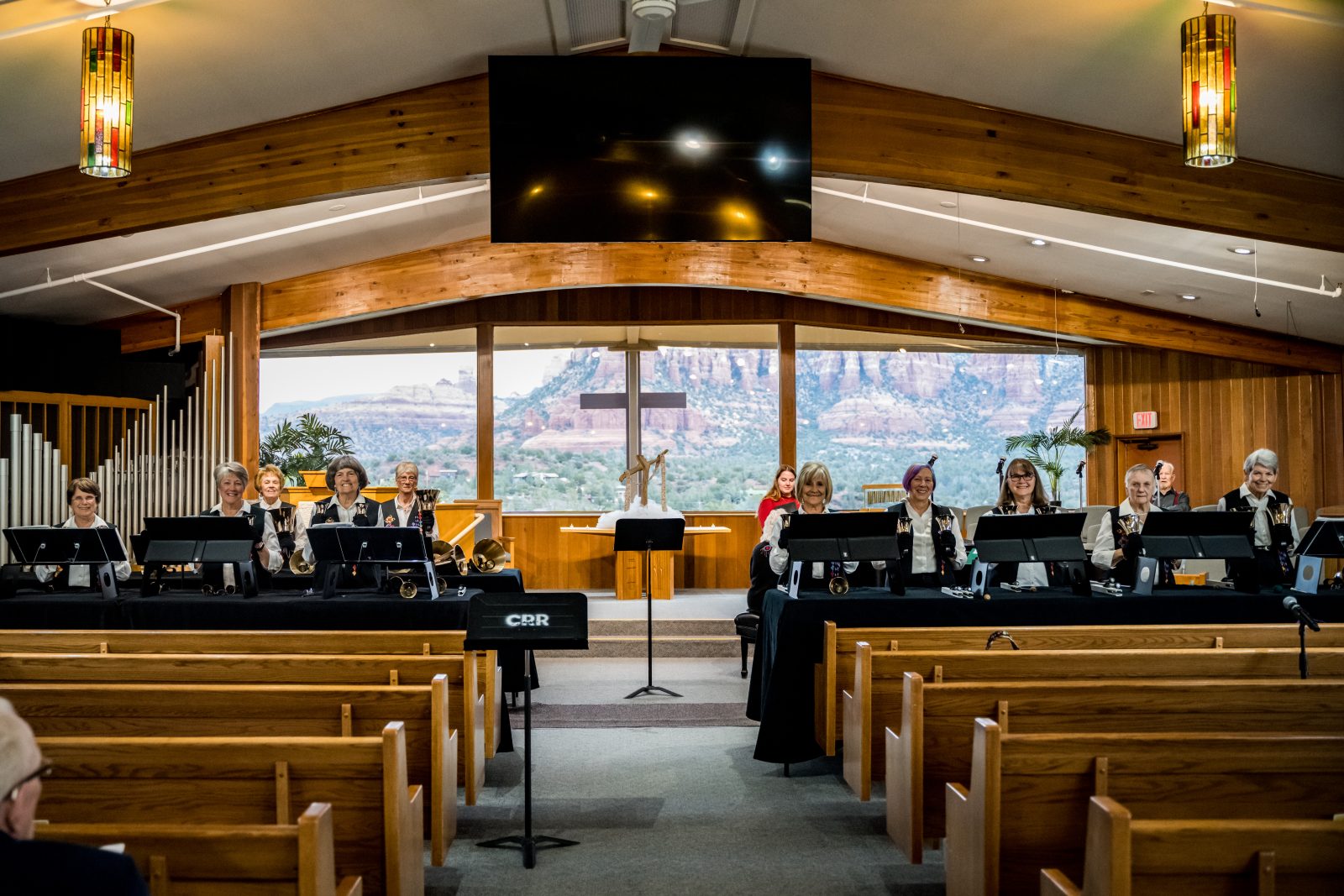 The Bell Choir member names in order from left to right are:
Karen Barrow, Carol Weinhardt, Judith Glen, Joy Stouder, Dee Carr, Bonnie McKeon, Linda Westlin, Joyce Bethune, Penny Beers, Debbie Wych
CHANCEL CHOIR & HANDBELL CHOIR
The emotional power of music is a vital and moving aid to our worship. Music, quite apart from an associated text, is capable of evoking powerful emotions. Hearts are stirred and feet set to tapping by a rousing gospel number, while another melody can move people to tears. Singing lends dignity and grace to sacred actions and has the greatest value in kindling in our hearts an eagerness to pray. From joyful organ music, beautiful choral music comprised of members of the congregation and choral music interns from Northern Arizona University, and the ringing of the handbells and chimes, opportunities for all ages abound! The Church of the Red Rocks is blessed to have a Steinway concert grand piano and a Moller and Rodgers pipe organ with 89 ranks and a computer for additional voicings.
The Chancel Choir has approximately 30 members and 8 NAU Choral Music Interns. This choir rehearses on Sunday mornings from 8:30 am to 9:15 am throughout the year prior to the 9:30 am worship service.
The Church of the Red Rocks is fortunate to have a Handbell Choir which consists of five octaves of hand bells and chimes. The choir performs once a month for church services, plus special music at Christmas and Easter. The ensemble rehearses every Thursday (September through May) from 1:30 pm to 3:00 pm.
We hope that you will prayerfully consider joining one of our ensembles, which are open to all!
Through the generosity of an anonymous donor, The Church of the Red Rocks is fortunate to be able to hire choral music interns from Northern Arizona University to help support the church's weekly musical activities. These undergraduate students provide musical leadership and occasionally sing solos during the worship services.
2023-2024 Choral Music Interns
Zach Macdonald is a tenor from Mesa, Arizona, currently pursuing a double major in vocal performance and psychology at Northern Arizona University. He is the recipient of the National School Choral Award from Mountain View High School, an honor given to recognize the dedication and musical achievement of choral students. Zach performs in numerous ensembles, including The Sedona Academy of Chamber Singers, High Altitude Vocal Jazz, Shrine of the Ages, and Opera Theater at NAU. He has also been an active member of the Psychology Club at NAU for the past year, working to connect fellow psychology students to build a supportive and invested community. Outside of school, Zach enjoys songwriting, playing guitar, running outdoors, collecting vinyl records from his favorite bands and performers, and reading books about people's lives/life's work.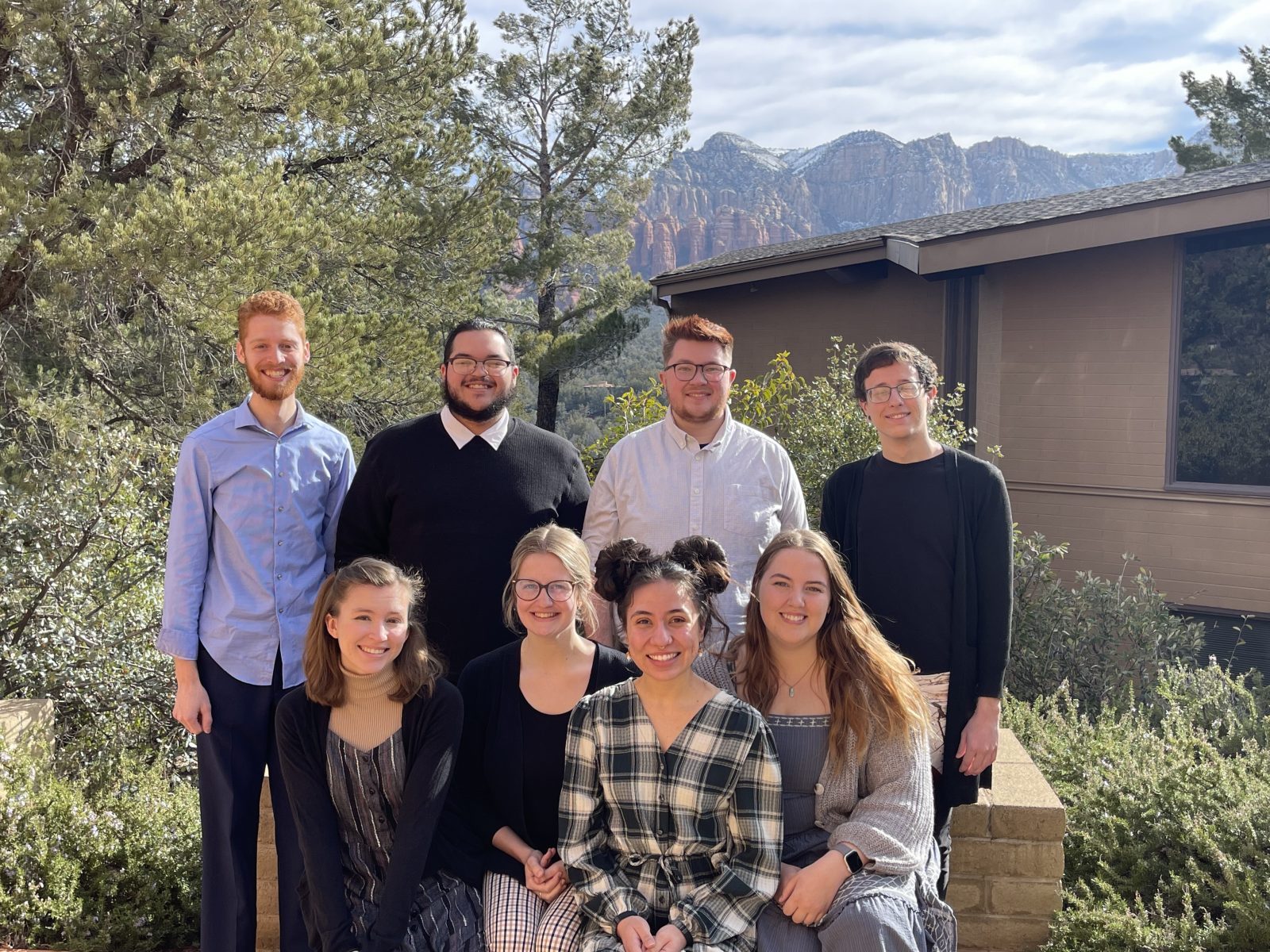 2022-2023 Interns
Back Row Logan Willson, Dakota Warren, Evan Braun, Alexander Kaus
Front Row Grace Andersen, Heather Drusedum, Osanah Manzo, Katelyn Mason
(New picture of 2023-2024 Interns coming soon)
Grace Andersen loves her time as an intern here at Church of the Red Rocks. She is a passionate musician and former four-year All-State Choir participant from Anthem, Arizona. She is currently studying Choral Music Education at NAU where she is proud to be a part of several ensembles including High Altitude Vocal Jazz, Shrine of the Ages, Vox Astra, and Elevation. She loves to share her love of music and recharge in nature.
Kyle Larsen is a third-year music education major at Northern Arizona University, where he sings in the Shrine of the Ages choir and the vocal jazz ensemble High Altitude. Before attending NAU, he was a student at Mesa Community College, where he performed with their concert and jazz ensembles, as well as with the Canto Vivo Chorale, Solis, Millennial Choirs and Orchestras, and Rob Gardner's Cinematic Pop Orchestra. Kyle was the winner of the 2023 Sonoran Desert Chorale Scholarship and had the opportunity to perform as their soloist this past spring. He has also been seen on the stage at Mesa Community College in productions of "Sweeny Todd," "The Addams Family," and "Something Rotten." Along with singing and performing, he also loves to play the piano. He last worked as a music coordinator and pianist for the Unity Church of Mesa, where he was able to collaborate with many artists around the valley. Kyle is excited to be part of the community here at the Church of the Red Rocks.
Katelyn Mason is a senior choral music education major at Northern Arizona University. Katelyn grew up in Las Cruces, NM where she participated in community and school orchestras and choirs throughout her childhood. She enjoys being an active member of the NAU Choral Program, having previously participated in Vox Astra and University Singers and various leadership positions. Currently, she is a member of Vox Astra and The Shrine of the Ages Choir, and serves as the Shrine of the Ages Council Secretary, Vox Astra Student Conductor, NAU ACDA Student Chapter President, and Jazz Madrigal Student Coordinator. Besides music, Katelyn spends her time cooking and baking. She loves finding new recipes and making dinners for her friends.
Mia Murray is a soprano originally from Glendale, Arizona studying Choral Music Education and Vocal Performance at Northern Arizona University. They are going into their third year of voice lessons with Christine Graham. Mia is so thankful for Christine's dedication to helping them find their voice as a performer. Mia performs with collegiate ensembles such as High Altitude Vocal Jazz, Shrine of the Ages and serves as a section leader in Vox Astra. They are also a part of the Lyric Opera Theatre program, performing most recently in Mozart's Don Giovanni. Mia is passionate about contemporary a cappella music and sings with the mixed-voice group on campus, NAU Elevation. In their 3 years in the group, they have served on the board as a choreographer, attire coordinator and now serves as the Executive Music Director. Outside of music, they love to cook vegetarian recipes and spend time with their cat, Apollo.
Adele Cora Schreiber is a sophomore choral music education major at Northern Arizona University. She is from Mesa, Arizona, and has been involved in music since before she was born. Adele enjoys singing soprano in a variety of ensembles including The Sedona Academy of Chamber Singers, NAU's Shrine of the Ages, and High-Altitude Vocal Jazz. Along with her presence in a number of choirs, Adele is a member of the Arizona Choral Director's Association, a student chapter focused on the importance of choral music education. In her spare time, she loves to cook, bake, crochet, sew, and spend time outdoors.
Dakota Warren (He/Him/His) is a fourth year student majoring in Strategic Communication with an emphasis in Public Relations. During his time at NAU he has been a part of several vocal ensembles, including NAU's Shrine of the Ages, Vox Montes, University singers, Highlander a cappella, and most recently High Altitude Vocal Jazz. As well he is involved in the Shrine of the Ages leadership council serving as internal community events co-chair. Post undergrad Dakota is hoping to work crisis Public Relations. Outside of classes and music you can typically find him disc golfing.
Logan Severson Willson is a bass, conductor, and composer from Tucson Arizona currently studying choral music at Northern Arizona University. He has received many accolades for his excellence performing with all of Arizona's major Symphonies, at local and regional ACDA conferences, and as a conductor, soloist and choir member in several world premières. Logan performs professionally and collegiately with many award-winning ensembles including The Sedona Academy of Chamber Singers, High Altitude Vocal Jazz, and Shrine of The Ages, where he serves as section leader. As a composer, Logan is published through his own website and has seen most success writing for choir and solo voice, notably having a première of his song cycle Three English Images with The Nightingale Opera Theatre alongside Jake Heggie's If I Were You. Currently, he enjoys his time as a choral intern at the Church of the Red Rocks. He is a student Bellmaster of the Harold M. Harter Memorial Handbell choir, as well as the conductor of the Kitt School of music composition studio, and music director of both the ACDA student chapter and Phi Mu Alpha, Kappa Xi chapter at Northern Arizona University. Outside of music you can find him racing bicycles as a hobby.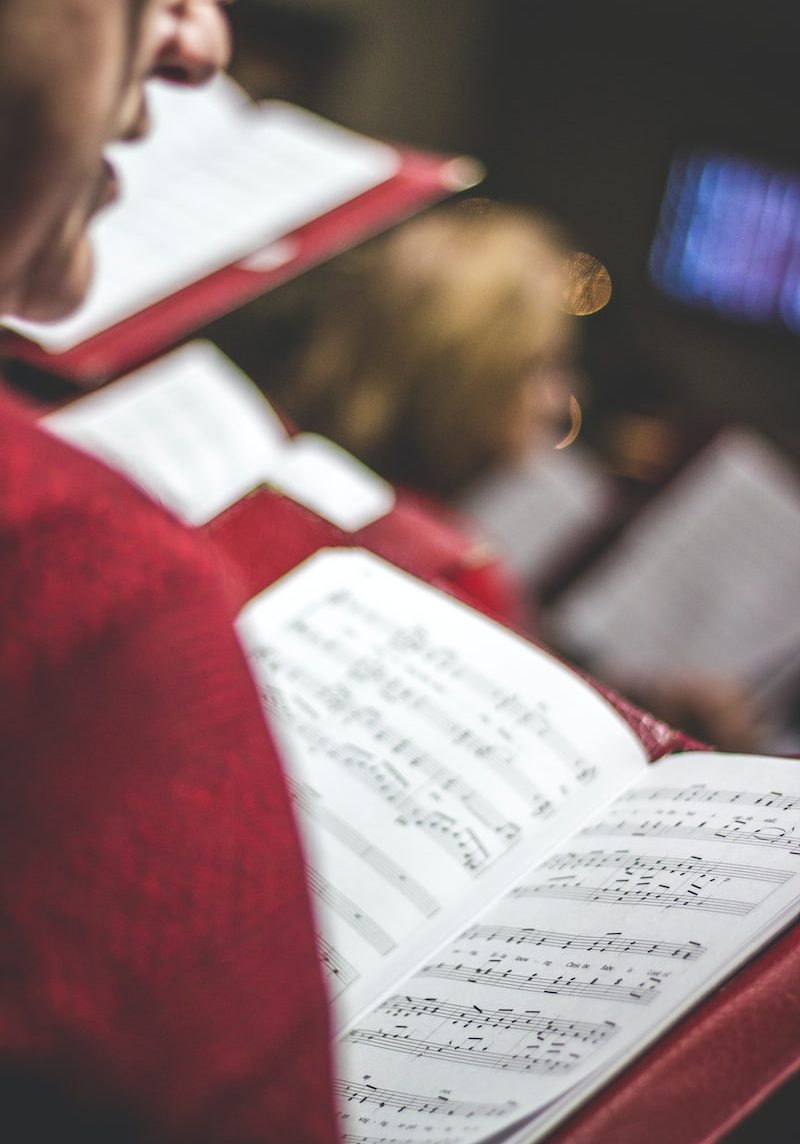 SEDONA ACADEMY OF CHAMBER SINGERS
www.sedonaacademyofchambersingers.com
Sedona Academy of Chamber Singers was created in 2010 to celebrate the 50th anniversary of The Church of the Red Rocks in Sedona, Arizona and the 25th anniversary of their Reverend, Dr. George A. Ault.   Since its inception, the ensemble gives undergraduate and graduate voice and choral students from around the Southwest an opportunity to experience singing in a semi‐professional choir.  The choir has performed throughout the state, most notably serving as a back-up choir for multi-platinum recording artist Josh Groban and opening for the vocal jazz/a cappella powerhouse, The Real Group.  In 2016, the ensemble was featured prominently in celebrations throughout Northern Arizona to commemorate the 100th Anniversary of the National Parks Service as an example of musical excellence in Arizona.
As the choir-in-residence at The Church of the Red Rocks, "The Sedona Academy of Chamber Singers and The Church of the Red Rocks have entered into a partnership with the express purpose of promoting the art of music, with the knowledge that doing so will enrich the lives of young people and adults alike and foster an atmosphere of intellectual and artistic curiosity among both patrons and members" according to Dr. Ryan Holder, Professor of Choral Studies at Northern Arizona University and Founding Artistic Director of the Sedona Academy of Chamber Singers.
The group's members fluctuate each year, collaborating with the finest choral musicians in Arizona. Because of their close connection with Northern Arizona University, the group acts as an educational experience for students, graduate and undergraduate alike, to experience the rigor and high standards of singing in a professional choral ensemble. As such, the choir receives music packets ahead of rehearsals and each member is expected to prepare all necessary repertoire before the first meeting. The group then rehearses together for one week, and at the end of the week, presents a concert of 15-20 choral works in various languages, styles, and voicings.
FOUNDING ARTISTIC DIRECTOR
Ryan W. Holder is currently in his fourteenth year as the Associate Director of Choral Studies at Northern Arizona University (Flagstaff, AZ), where he directs the Women's Chorale, Northern Voices and High Altitude vocal jazz ensembles, teaches undergraduate and graduate conducting and choral methods, supervises choral student teachers, serves as the adviser for the NAU student chapter of the American Choral Directors Association and the three contemporary a cappella groups.  In addition, he is the coordinator of the annual Jazz/Madrigal festival, which brings in over 85 high schools and 145 choirs every year.
Dr. Holder has given lectures and presentations at local, state, and regional ACDA and NAfME conventions, including a lecture on "Making the Transition from Classical to Vocal Jazz".  His vocal jazz ensembles have also been invited to perform throughout the Southwest, including performances at state and regional ACDA conferences, and was one of only three vocal jazz ensembles selected to perform at the 2012 Jazz Educators Network Conference in Louisville, Kentucky.
Ryan currently serves as the Arizona State ACDA President as well as the ACDA National Committee on Educational Technology.  He also serves as the director of music at The Church of the Red Rocks in Sedona, Arizona where he is the founding artistic director of the Sedona Academy of Chamber Singers.
Dr. Holder received his DMA degree from the University of Miami in addition to bachelors and masters degrees from Southern Oregon University and University of Northern Colorado, respectively.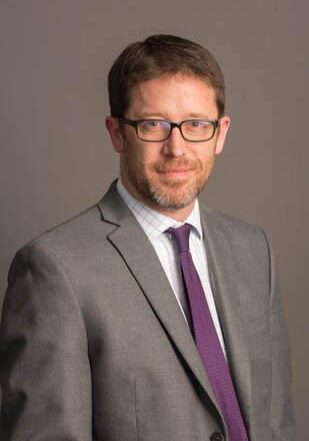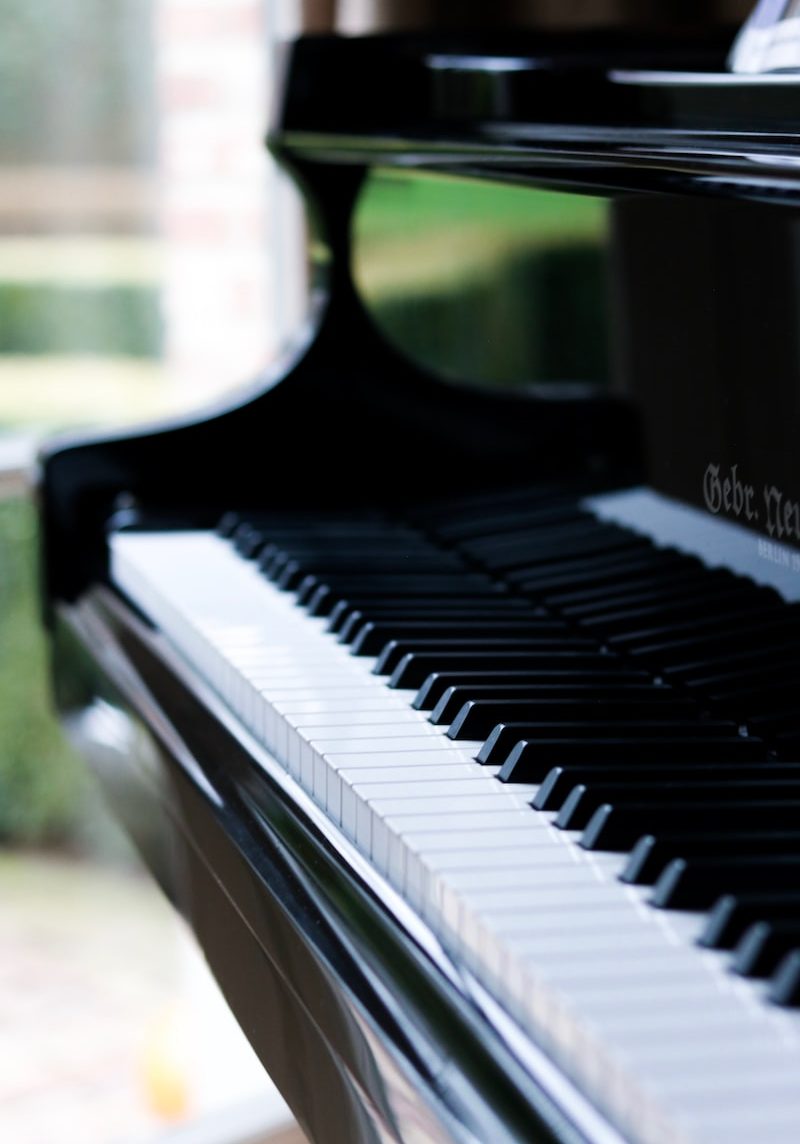 The Friends of Music at The Church of the Red Rocks are a group of generous individuals who work to ensure a strong and vibrant music program at the church. Through their sponsorship, every concert in the Music at the Red Rocks concert series is presented free of charge as a gift to the people of Sedona and Verde Valley.
The Friends of Music also help to underwrite all special music that occurs during the church services, including guest artists and instrumentalists for Christmas and Easter services.
For more information or to inquire about becoming a Friend of Music at The Church of the Red Rocks, please call the church at 928-282-7963 or email ryanwholder@gmail.com